New Brunswick Museum, Saint John, N.B., 1989.108.350

Louise Manny, New York, 1935

photographer unknown

Dr. Louise Manny Bequest
"
Something which is truly our own…

"
Dr. Louise E. Manny
(1890-1970)
Many commemorative sketches and biographies of this dynamic woman exist, all chronicling a life filled with museum service, heritage conservation, historical research and authorship. This festival-founding, library-managing, folksong-collecting woman from the Miramichi had a single and comprehensive purpose: to preserve and promote New Brunswick's rich history, with particular accent on her cherished childhood town of Newcastle. To this end, she laid the foundation for the Miramichi Historical Society, authored a weekly newspaper column recounting "Scenes from an Earlier Day," broadcast her research over CKMR radio in Newcastle, and built up a substantial collection of rare books and documents, among many other projects.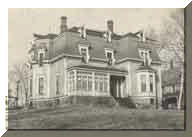 Along the way, Louise Manny rubbed shoulders with major players on the heritage scene, as well as with dignitaries and scholars from New England and the Maritime Provinces. When she struck up a friendship with Newcastle's most famous son, Lord Beaverbrook, Manny found in him an enthusiastic patron and a kindred commemorative spirit. With Beaverbrook's financial backing, Manny directed the restoration of the Old Manse building in Newcastle and oversaw its conversion into a lending library for the town. Manny, who "thundered" about "our thousand-dollar kitchens and our ten-dollar libraries," worked incessantly to make books, films, magazines and musical recordings available to Newcastle's public. Beaverbrook also entrusted Manny with the oversight of several other heritage preservation projects. In 1946 he outfitted her with a huge recording machine and asked her to collect genuine Miramichi folksongs from local singers, with preference for traditional ballads sung by loggers in the surrounding lumber woods. His suggestion connected with Manny's attraction to New Brunswick folkways, launched her tour of tiny New Brunswick settlements in search of authentic folksongs, forged her friendships with Nova Scotia's song collector Helen Creighton and Maine folklorist Sandy Ives, produced a book: Songs of Miramichi, and spawned a cultural revival with a unique annual event: the Miramichi Folksong Festival.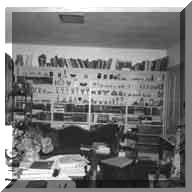 Louise Manny must be regarded as a pioneering force behind the mid-twentieth-century revival of local heritage in New Brunswick. By encouraging people to preserve the artefacts of the past – whether by collecting, commemorating or simply singing – she, along with others, inspired a province-wide celebration of history, and a passion among New Brunswick citizens to learn more about their roots. Researchers regularly wrote to her for historical information, and when they did, Louise shared from her trove of research notes, pointing out promising resources but urging seekers to "do your own research, which makes a much more interesting study than a rehash of someone else's findings." For her extensive accomplishments she was awarded two honourary doctorate degrees.
During her lifetime, Manny kept in close touch with administrators at the New Brunswick Museum and collaborated with them on various heritage projects, including her trilogy of books on New Brunswick's shipbuilding industry. A corresponding (life) member of the Museum, she sat on its Supervisory Committee for the Canadian History Department, and appears to have considered director J. C. Webster a confidant. In her last will and testament, Louise gave the first pick of all her papers, correspondence, books, and recordings – an enormous and priceless collection amassed over her lifetime – to the New Brunswick Museum. From these papers, as well as those housed in the Provincial Archives of New Brunswick, we learn much about historical and contemporary New Brunswick, and even more about Louise Manny herself.
For more details of Louise Manny's life and achievements, click here.
Sources
| | |
| --- | --- |
| | Correspondence of Louise Manny. Louise Manny Collection, Provincial Archives of New Brunswick. MS3C4, MS1A5, MS3A8, MS3E2, MS5D4, MS3C5, MS3C6 (Folksong Festival), MS3C3, MS3A3. |
| | Correspondence of Lord Beaverbrook. Archives & Special Collections, Harriet Irving Library, University of New Brunswick. Beaverbrook Papers. Cases 20, 38, 39, 113, 137, 140. |
| | Doyle, Arthur. Heroes of New Brunswick. Fredericton, Brunswick Press, 1984. |
| | Hamilton, W. D. Dictionary of Miramichi Biography. Privately Published. Printed by Keystone Printing & Lithographing Ltd. 1997. |
| | Maine Folklife Center. http://www.umaine.edu/folklife/women_folklorists5.htm |
| | New Brunswick Museum Archives and Research Library Online Database: Louise Manny fonds. |
| | New Brunswick Museum vertical files: "Manny, Louise." Available on microfilm at the Public Archives of New Brunswick, F11086. |
| | Saint John Telegraph Journal, 20 August 1970; 9 February 1963; 21 August 1970; 3 August 1960. |
| | Steiner, Margaret. "Regionalism, revival and the reformation of community at the Miramichi Folksong Festival." Lore & Language, 12 (1994): 241-252. |
From Her Collection
~~~~~